Drawing since I was young, I always liked designing characters, so I decided to enter a degree in a Bachelor in Fine Arts in Digital Content and Animation at Digipen Institute of Technology Europe - Bilbao.
The degree gave me the opportunity to develop a Generalist profile in videogame and filmaking art with a focus in character design and 2D art.
I also had the opportunity to work in different semiprofessional and professional projects to get expertise in the different areas of the art development process.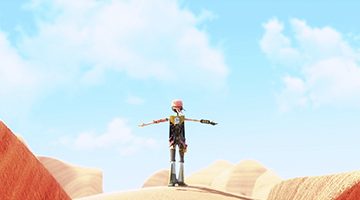 These are the principles that I follow when developing an asset:
Listen and later, act. Understand the theme and idea that the design team is looking for, so we can match the vision of the team.
Concept your ideas. First of all, we have to create concept in order to get an idea of what we are looking for.
From the reality to the game. We should gather all the reference needed so we can shape our idea according to logic and functionality.
Iteration, the path to the perfect concept. If we don't explore as many possibilities as we can, we may not find the correct one, so keep iterating.
Gameplay 1st. Any content created for the game has to fulfill it's duty, being only pretty won't make it worthy for the game.
It's feedback time! Be always ready to receive feedback. Make sure you take notes from everything the team said and back to iterate.
Pretty, but functional. Every piece of art should have all the necessary information so the rest of the team doesn't have doubts about your concept.
SKILLS:
Traditiona drawing (High)
Concept art (High)
3D animation (Medium)
Traditional animation (Medium)
Pixelart (Medium)
Modeling (Medium)
Texturing (Medium)
Rigging (Medium)
Graphic design (Medium)
Motion graphics (Medium)
TOOLS:
Adobe photoshop (High)
Autodesk 3ds max (High)
Adobe after effects (Medium)
Aseprite (Medium)

Substance designer

(Medium)

Substance painter (Medium)